Gone are the days when a pregnant woman would stay in the four walls of her house.Now, women enjoy their pregnancy and flaunt the baby bump as well. And why wouldn't they, pregnancy is one of the most beautiful things on the earth.Every woman wants to look fabulous and beautiful while pregnant. It goes very difficult to want to dress up when you're pregnant, especially when you're in your later trimesters.
Pregnancy is not just about your baby, it is about you and your health as well. The most important step to taking care of your baby is to take care of yourself. If you're pregnant, comfort should be on the top of the list as your body and your mind needs it for a safe and healthy pregnancy. Wearing the right clothes during pregnancy is not a luxury, but is a necessity to keep you in the comfort zone while you grow. Wearing the right set of clothes will keep you safe and will lead you to stress free and happier you, and a happier you means a happier baby.
Your body changes drastically during pregnancy. So, you need to wear clothes that are not just comfortable, but appropriate for the growing body as well.Wearing uncomfortable clothes doesn't seem to be the good decision, as you're just contributing to feeling worse. Clothes that are tight can cause heartburn and indigestion, which later may be able to cause nausea and vomiting.
Here are some ways to dress up while you are pregnant:
Wear stretchy tops or over-sized tank tops
You may want to wear stretchy or over-sized graphic tank tops to stay and look unique even while pregnant. Many maternity stores will have an option on stretchy tops, but they may not always fit you. Oversized tank tops are comfortable and come in many colours, and can often be found with bold edgy prints on them.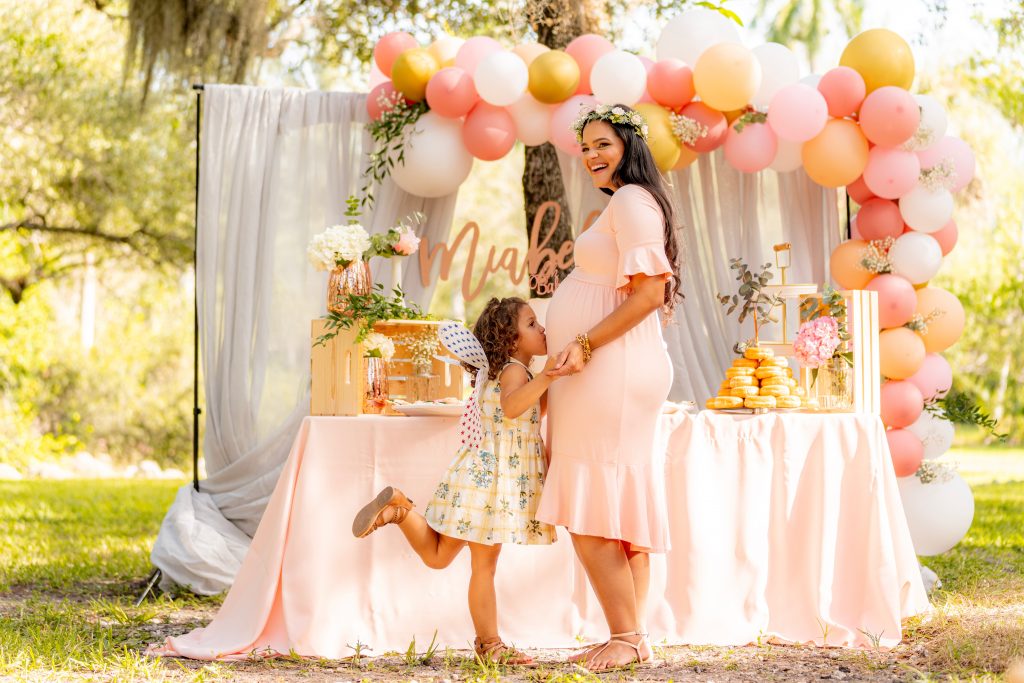 Coats & Jackets to layer over tops
Some women are shy or may not want to flaunt their baby bump. So what you can do is, you can hide it by wearing a jacket over your favourite tops to help create a break in your silhouette. Coats work well in the cooler seasons, and sometimes may not be the best option when it's too hot out. For summer, try a sheer shrug over the top of a tank top for some added layers. Wear them with your maternity jeans or with a short dress and make it look gorgeous and stunning.
Wear bottoms that rest below the waist line
This is the time you have to buy low-rise pants, especially if you don't want to buy super-stretchy jeans that you will only use for a couple of months. This will also depend on how low you are carrying when you are pregnant, but, many women can get away with this when pairing it with a tunic top.
Pick the right skirt and dress
You can opt for maxi dresses or pick a wrap dress for additional comfort. Flaunt your bump in gorgeous flowy dresses and let your maternity fashion be on point.
Other than wrap dresses, wearing skirts and dresses can be tricky and you may want to avoid too-short skirts too.
If you want to wear a skirt, make sure it is slightly form fitting and low volume. Try for A-Line skirts, pencil, or a thin low volume gypsy style.
A high-waist skirt in comfortable material is a good idea if it falls at the knees or below them. Wrap dresses are perfect for pregnancy. They are comfortable, stretch over the stomach.
Purchase special maternity pants
Tight clothing can constrict women's growing body.Thus wearing maternity pants with an elastic waistband is great and you don't have to worry about not fitting.
You can get them online or in the stores, they are easily available. Maternity pants also come in blue jeans style but with a stretchy waistband. So give blue jeans a try.
Get the pants that are comfortable. You need to avoid anything with zippers or buttons.